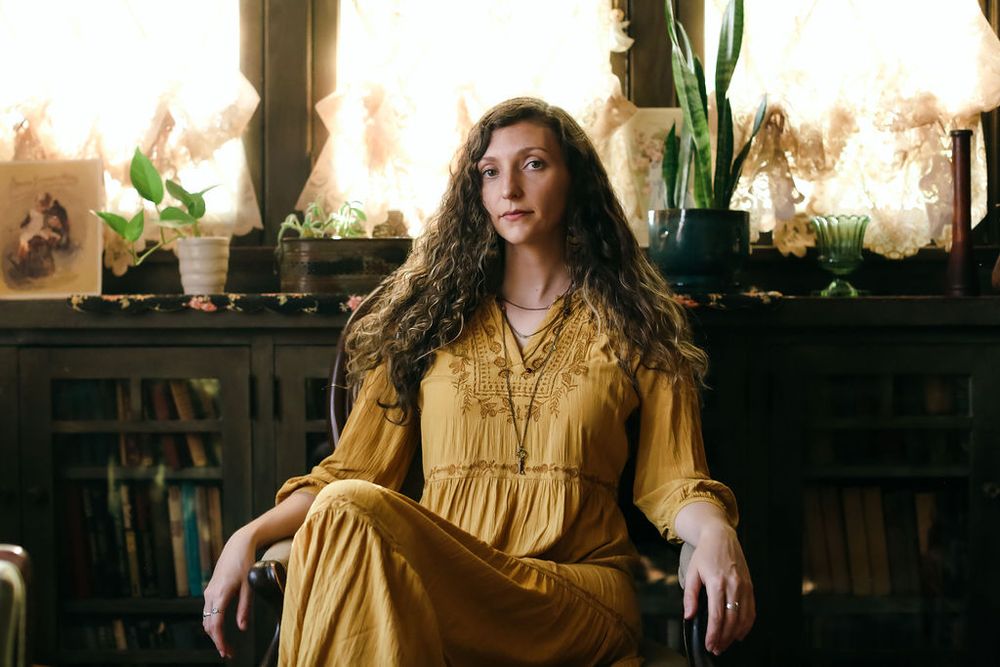 "Sultry emotive vocals, atop a distinctive blend of deep guitars and triangle percussion, Gerhardt succeeds in creating music that is experimental yet palpable. Lyrically "Be My Hands" conveys the heightened tension that exists at the beginning of a relationship.  The relatable song focuses on the feeling of excitement and nervousness that comes with a new love."

- Chloe Robinson, Earmilk
Jessica Gerhardt is a singer-songwriter and ukuleleist from Santa Monica who first began writing songs at the age of 8. She was raised by a Catholic mother and Jewish father, and fondly remembers celebrating Christmas and Hanukkah in her childhood, as well as exploring God and faith from different perspectives. After receiving a ukulele as a birthday gift, she began teaching herself to play when she was 14 and it became her primary songwriting tool. While attending Reed College in Portland, Oregon, though she was a Psychology major, she felt a sense of calling to pursue music. Her Catholic Christian identity also deepened in college alongside her feminist identity, and while themes and images find their way into her music, she seeks to write in a way that is universally accessible. She is ultimately more interested in finding common ground with others than drawing distinction, while respecting our individuality and diversity.
For several years after college, Jessica performed in a number of LA-based projects including Feronia and Hotel For Strangers. Meanwhile she worked as a full-time youth minister and worship musician, trying to promote authenticity and inquiry as a genuine and fulfilling pursuit of spirituality. In January of 2019 she explored discernment, vulnerability, and intentionality in relationships with her first single released under her own name, "Be My Hands", the title track off of her 5-song EP, produced by Patrick Doyle. The music video for the title track was premiered in Earmilk, followed by the release of her single "Aquarius" in February 2019, and a cover of Joan Armatrading's "The Weakness In Me" in April 2019. The Be My Hands EP was released June 2019 followed by a West Coast and East Coast tour in July, as well as her transition out of youth ministry to working full-time as a creative freelancer. 
Subsequent single releases include "Morning Moon" (Nov 2019), and "Keep It Simple" (March 2020, written in memory of her late grandmother - which has turned into a monthly concert & conversation series over Zoom), "Gillian" (May 2020) and her first self-produced track, "All Will Be Well" (Nov 2020), "Not Now" (March 2021), "This Must Be The Place (Naive Melody)" (May 2021), "Jacaranda Moon" (July 2021), and "Don't Be So Hard On Yourself" (Jan 2022). Her debut full-length album Alight Beyond The Sea is currently in production. 
Before the pandemic Jessica also enjoyed curating bills at local venues including her monthly Friday at The Fox Den house show series, Lady Lyricists at The Love Song Bar, and the Femme-Fronted Fest at The Hi Hat. During the pandemic she hosted a Zoom concert & conversation series called Keep It Simple, inspired by her single, in which she and a featured artist share songs and stories inspired by faith, doubt, spirituality, grief, hope, joy, love, and the like. She also hosts a songwriting group and a book club for The Artist's Way, to foster community and creative flourishing among fellow artists. You can also peruse her art and jewelry, which she sells on Etsy at Work of Human Hands. 
"The indie pop artist's influences include St. Vincent, Fiona Apple, Florence + the Machine and the Talking Heads and, if recent single "Morning Moon" is anything to go by, she wears her heart on her sleeve and allows her voice to soar." - Brett Callwood, LA Weekly
"Otherworldliness characterizes much of Gerhardt's music... Decidedly not typical praise and worship music, Gerhardt's lyrics still regularly display themes praising and/ or wrestling with the work of grace... carving out a space between Christian and secular music often proves trying, but... her music provides an invitation to a deeper spirituality for believers as well as a bridge for non-believers..." - Patrick Misner, Memorare Arts
"Gerhardt's voice is resilient and resonant. The gentleness in her voice lends itself to the lyric content nicely as she passionately expresses the spirit of the tune. A welcomed return to the spotlight, "Be My Hands" is an opportunity to say hello again to an impassioned performer." - Eliana Fermi, Staccatofy
"The first time I played through this tempting track ["Be My Hands"] I was thoroughly entranced. This was blistering folk aided by super catchy lyrics and Jessica's vibrant vocals that were like a breath of fresh air...everything about this well written number was pure perfection...there was a richness to Gerhardt's sumptuous tones which hooked me." - The Music Is My Radar